Bank of Canada Rate Increase - March 02 2022
Date Posted: March 4, 2022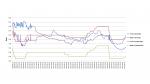 The Bank of Canada raised its benchmark rate from 0.25 per cent to 0.5 per cent on Wednesday March 3rd, 2022. This move is forecasted to be the first of a series of additional small rate hikes this year to tame inflation that has risen to the highest point in decades.
This is the first time the Bank has raised its rate since 2018. Pre-pandemic, the Bank's rate was 1.75 per cent before it was quickly cut down to the rate of 0.25 per cent to help the economy. The bank cited news that Canada's economy grew at a 6.7 per cent annual pace in the last quarter of 2021, a figure that the bank described as "very strong".
"This is stronger than the Bank's projection and confirms its view that economic slack has been absorbed."
The Bank also cited factors beyond Canada's borders as reasons for its move.
Lenders are beginning to move in reaction to the Bank's hike. Royal Bank is raising its prime lending rate to 2.7 per cent, up from 2.45 per cent. Other banks are also looking to follow suit.
Qualified buyers looking to buy a $500,000 home with a $400,000 mortgage could easily get a 25-year variable loan at under 2 per cent; costing them about $1,655 a month. If the central bank were to raise its rate three more times (and the lender followed suit) the buyer's monthly payment would move up to $1,801 a month – around $200 more every month.

Using the increased monthly payment, gross housing costs of mortgage payments, taxes and heat represent a ratio of less than 28% when using Ottawa's median family income of $102,000 making them well within an acceptable range.

The ongoing invasion in Ukraine is a considered a factor to influence inflation and other parts of the economy, the Bank of Canada cited. Canada, being among many other countries, has pledged to no longer import oil from Russia which has contributed to the spike in prices.