Canadian Housing Market More Stable Than Many Believe
Date Posted: March 31, 2022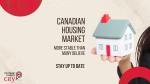 Canada's housing market is a lot more stable than it looks, despite soaring prices. The average house price climbed by more than 20% year over year in February to a record $816,720, leaving many Canadians worrying about affording houses.
A report released Tuesday by Chief Economist Benjamin Tal from CIBC looked at various scenarios for housing over the next five years. If Bank of Canada raises interest rates at a reasonable schedule, price growth would end up flattening and gradual rate increases wouldn't affect mortgage payments.
However, the housing report noted the risk of over-tightening. With inflation being at the highest level in three decades, having eight rate raises per year could lead to a recession.
Finally, the report examined what could happen if the federal government removed the principal residence exemption. Adding a capital gains tax on the sale of primary residence could be applied on a prorated basis and such a move could incentivize sellers and in the short-term increase inventory.
To find a mortgage broker click here
To read the full article click here