MPC Meets with Government to Find Support for First Time Homebuyers
Date Posted: March 23, 2022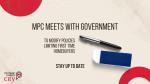 Mortgage Professionals Canada (MPC) is the national association representing Canada's mortgage industry and were in Ottawa this week to meet with key political decision makers to bring support for first-time homebuyers and relieve constraints in the housing market.
In the most recent Federal election, we heard Canada's major political parties promising to make changes to the mortgage qualification stress test and to mortgage insurance qualification. This week, MPC have met with Ministers, Senators, and Members of Parliament to discuss these and other policies that should be implemented.
We've been seeing how hard it may be for first-time homebuyers to get into the housing market as down payments and income required for mortgage approvals are both on the rise. But moreover, how competitive situations such as bidding wars for have been discouraging for first time buyers. Some buyers are even choosing to forego a home inspection to make their offer more attractive to the sellers.
Our mortgage agents work everyday to help thousands of people buy their first homes, but certain policies prevented many otherwise qualified Canadians from benefitting from home price gains. These Canadians still want to help grow the country's middle class through homeownership – and we hope that after MPC meets with members of Parliament, we can see some of these policies changed or modified.
To find a mortgage broker click here
To read the full article click here