Open House - The Real Estate & Mortgage Show: April 2nd, 2022
Date Posted: April 4, 2022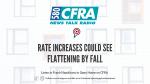 Paul describes the current market with one word: volatile. If you've been following along with the previous shows, you would know that the current state of the housing market is a little all over the place. It is becoming more and more difficult to predict which way the market will move next. Listings are low compared to last year, rates are increasing and some fears of a recession this fall are becoming more and more realistic.
If this is the case, that means there is room for opportunity. Based on the current market and the current economy, a recession is what is needed in the current market. We know that the United States is headed for a recession and in past cases Canada follows suit.
However, this is not the worst thing that could happen. This could give opportunities for people to get into the housing market at lower costs and could open the door for policy changes for the future.
On the other hand, if a recession doesn't happen – we could see the potential flattening of house prices and rate increases. This is also a good scenario as we can allow people to catch up to the rapid increases we've seen recently.
Whatever the future will hold, there is always opportunities to be successful with owning a home and managing your portfolio. If you have any concerns, meet with your mortgage broker to find out the best options for your situation.
To hear the full podcast; click here
Contact your Mortgage Broker today for trusted advice