Open House - The Real Estate & Mortgage Show: March 19th, 2022
Date Posted: March 21, 2022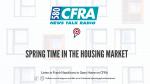 As we see expense costs rising across all industries such as groceries, gas and more – we can also see an increase in fixed rates. This has been making qualifying more difficult for people trying to get their first or second mortgages.
If inflation continues to increase at the rate it has – we are predicted to see interest rates, follow suite.
We are seeing the question of "how are people affording to get into the housing market" pop up more and more. The reality is that a lot of people are getting their parents' help to afford that down payment. In addition, we see a lot of people renting out the basement or part of the house to their parents to minimize on expenses.
Another factor that is making purchasing a house difficult for new buyers is the speed at which houses are selling. Typically, you could shop around and add a few homes to your list. However, now we are seeing that houses are selling so fast if you take an additional week to 'shop around' you are almost guaranteed to miss out on that first house you had interest in.
Aside from this – springtime is around the corner and two words come to mind: street appeal. Now is the time to take to the gardens, clean up the yard and the sides of houses. If you're looking for maximum selling price you want to act as quick as possible.
We can only predict that houses will only sell faster and for more value than they did this time last year. If you are buying a house, you want to start your research yesterday and if you are selling your house the best time was also yesterday.
To hear the full podcast; click here
Contact your Mortgage Broker today for trusted advice