Open House - The Real Estate & Mortgage Show: March 26th, 2022
Date Posted: March 28, 2022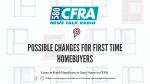 For two years we've seen major changes to our lifestyles and major changes to major industries. The housing market has seen changes in so many aspects it's interesting to imagine how it was over 2 years ago. Looking at qualifying for mortgages – we're noticing the process of applying has changed drastically.
Typically, when applying for a mortgage, we would expect to provide income verification and apply with good credit scores. Now, it is a different story. On top of having to provide income and credit scores, we have been seeing lenders and banks asking for 3 months of bank statements and questioning any deposits that are not payroll, contacting employers by phone, and investigating every aspect of a persons' personal books. It's become so much that we start to question – is it becoming too invasive?
Banks are actively voting for government to enforce open banking. Which simply means a persons' bank account would be opened to investigating by the banks or lenders. They claim this is to rule out money laundering, however, money laundering cases typically occur in less than 1% of the general population. Which, again, brings the question of is it too invasive.
After talking with MPC president, who in the past week has been meeting with government officials to find new strategies for first time homebuyers, we've learned that there may be hoped to get into the market. The possibility of 30-year amortizations for first time home buyers only and decreased down payments for houses under $1 million shows there may be new regulations put in place. The ongoing concern is for those who purchase a house at peak pries and are leveraged to the maximum – will see more debt than equity if the market decides to go the other way. These regulations have been put in place to avoid this problem from happening, however, the rate of inflation is causing a very difficult situation for getting that first home.
To hear the full podcast; click here
Contact your Mortgage Broker today for trusted advice