Open House - The Real Estate & Mortgage Show: March 5th, 2022
Date Posted: March 7, 2022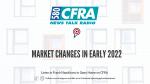 Average sale price in the first two months of 2022 went up by $76,000 or 33.2% with the average sale price sitting around $722,000. This is just from looking at the year-to-date changes from the beginning of 2022.
Over 30% of parents are helping their kids by co-signing on their mortgages. Total number of listings on the market right now are sitting around 1000 which is still sitting at a low compared to the regular market.
We are seeing a big change in the conditions when buying a house. Typically, we would see a lot of conditions on home inspections and others before accepting the sale, however, now we see that if you enter a sale with any conditions, it is likely your offer won't even be considered.
Prime rates have increased by a quarter point over the past week, and we can forecast it to increase another quarter point next month. We see a lot of things happening in the world including Ukraine-Russia, which is resulting in a lot of uncertainty in the markets.
As we see rates rising again it may cause a lot of urgency and panic for consumers however, if you look at where rates were before COVID started two years ago, we are still sitting at lower rates than we were. This means over the past two years there was a big opportunity to save, and we are just getting back to where we were at.
People selling their home are looking to take advantage in the increase to house prices and are getting a little greedy when trying to price their houses. We saw the same thing last year and there was a bit of a shift in June to favour buyers so we can expect to see shift this year. If you are looking to sell your house, now is the time to do it.
Guest speakers raise good points on raising rents for tenants. When trying to increase rent, you are only able to raise the rent by the percentage set for that current year. This year in 2022 the increase is set to 1.2%. This means if you are looking to increase rent for your tenants you can only do so one time at the rate of 1.2%. If you have not increased rents over several years, you still can only increase the rent one time by the rate for the current year. This brings to question if it's worth increasing rents when you have a good tenant. A great tenant is nine times out of ten more valuable than making an extra $200 in the year.
To hear the full podcast; click here
Contact your Mortgage Broker today for trusted advice