The Year of the Condo
Date Posted: March 16, 2022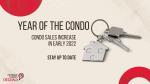 Demand for condos in Canada's big cities could hold strong and maybe even increase from the gradual recession of the COVID 19 pandemic. Even though rising interest rates may overall have a dampening effect on Canada's housing market.
National sales figures for February showed month to month growth in the number of units sold from January – however also showed an overall decline of 8% from the same month a year before.
While overall stats dipped year over year in Canada, apartment-style units saw large increases in sales last month compared to February 2021. Vancouver, Edmonton, Winnipeg and Hamilton-Burlington all saw apartment sales jump, with Toronto seeing a jump of 38 per cent since 2021.
We saw during the pandemic that city people were being told to work from home and were therefore moving out of the city to take advantage of lower priced homes. Now that the pandemic is closing, we see a shift in demand for apartments and condos in the big cities.
Because condos saw less price appreciation than residential units outside of the city, we saw the residential home values outpace the condos. This is resulting in residential homeowners being able to take that money and put it back into a city condo.
Another contributor to people wanting to move back to the city is the rising gas prices. Again, now that COVID is beginning to see its end, there is an increase of necessary commutes which is contributing to the uproar of condo demand.
A good thing to take note of is that the Bank of Canada increases have taken effect on single family homes, and we are now seeing it hit town homes; meaning, condos and apartments are the most affordable units right now. This "trickle down" effect could cause a surge in the purchases of apartments and condos in the following months, especially with additional rate increases from the Bank of Canada.
If you need help with financing a condo Contact a Mortgage Broker today!
Read full article here